THE RIDERS ASK THE ORGANIZERS TO MAKE THEIR CONTRIBUTION REGARDS THE SAFETY IN RACES
from 30/08/20
During the first stage of the Tour de France, the riders have neutralized the last scheduled descent and therefore they have showed a high level of common sense and solidarity.
After countless falls, caused by the roads made slippery by bad weather, in view of the second passage on the descent of the Côte de Rimiez, they took, by mutual agreement, a clear position for their safety, without damaging the show of the Grande Boucle.
After many appeals for more safety in the race, the athletes come together, showing a constructive attitude towards all the parties involved. The CPA has been working with the UCI for months on this issue and would like to be able to do the same with the organizers in order to jointly provide effective and pragmatic solutions to this problem.
«I am happy with the uniform approach of the guys competing in the Tour. As I always say, united we are stronger. We want to collaborate in a constructive and relevant way with the other stakeholders, but we will be uncompromising and firm if other incidents such as those in the past few days should occur again» repeates the CPA president, Mr. Gianni Bugno.
Images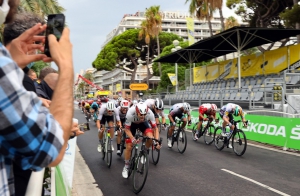 Show all news